Majestic 37cm Digital Marine Satellite TV Antenna SATMAR37D
12 VOLT - 37cm Digital Marine SATELLITE TV Antenna System (NZ Only)
When it comes to compact deisgns and high performing Digital Tuner Automatic Marine Satellite Antennas the Majestic SATMAR37D is your ultimate choice. The small, compact and packed with features, unilimited Azimuth and fully gyrostabilzed the SATMAR37D will be perfect for you and your family watching TV in your boat.
Majestic SATMAR37D
The SATMAR37D is a compact design Digital Satellite TV antenna that Majestic offers for those looking to go slightly offshore. It has been designed for super fast aquisition using our latest state-of-the-art software and HSDT (High Speed Digital Tuner) you can be assured that the SATMAR37D is going to keep a stable signal whilst travelling. Majestic has been leading the world with cutting edge satellite technology and the performance of the SATMAR37D is evidence of this. Perfect for boats less then 55ft, the SATMAR37D will keep your family and your guests well entertained.


Technical Features:


Power Efficiency: With over 15 years experience in developing energy efficient entertainment products the SATMAR37D was designed with power consumption as the primary factor. This unit draws a maximum of 3 Amps maximum while doing a search once locked on it enters a power saving phase to minimise power consumption based on the conditions, the heavier conditions the more power is used to keep the SATMAR37D Marine Satellite Antenna locked on, the lighter the conditions the less power it uses.

Voltage Range: Most companies claim they are 12 Volt, and technically yes they work on 12 Volts. However the issue is the level of tolerance the electronics have, most 12 Volt electronics have a limited tolerance, generally between 11V and 14V. This can cause many people problems especially when they have long cable runs, or the battery voltage drops a little (especially late at night), or even if they have a poor power connection. The Majestic SATMAR37D is designed to work from 10V through to 18V DC, therefore ensuring you will not have any power issues.


Tuner: HD Digital DVB-S Tuner is built in the Majestic SATMAR37D Marine Satellite TV antenna IDU black box which allows you to be able to receive Full HD Digital Signals to your TV or Decoder box or directly into a Majestic TV. The HD Digital DVB-S Tuner allows you to receive Freeview signals from the satellite and connect to a Sky decoder for those that have Pay TV. The Majestic SATMAR37D Marine Satellite TV antenna gives you the huge advantage of full HD Digital performance when you are away from local TV stations.
Weight: The physical design of the Majestic SATMAR37D Marine Satellite TV antenna is to be able to withstand the harsh marine conditions and UV from the sun, but more importantly it is designed for easy installation. Weighing only 9Kg this antenna covers a small footprint on the roof or mast and makes installation very easy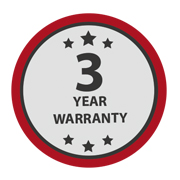 Warranty: Majestic products are designed and developed in Australia and exported globally, with over 15 years experience Majestic stands by the quality of our products by providing a 3 year worldwide warranty. Our engineering design team has paid attention to all the important details to ensure that when you purchase a product of this quality and caliber that you can enjoy many years of reliable performance in the toughest conditions where domestic brands will not survive.




Data sheet
Accessories Supplied

10M Coax Cable, IDU, Instruction Manual

Azimuth

Unlimited (no cable wrap)

Colour

White

Current Draw @ 12 Volt

3 Amps (max)

Features

Dome Height 470mm

Gain

27dBi

LNB Local Freq

11.3 Ghz

Polarisation

Vertical & Horizontal

Stabilisation Type

2 Axis DC Motor

Weight

9Kg
All Majestic products come with a 3 Year warranty.

You can simply keep your receipt for 3 Years and provide this as your proof of purchase.

Otherwise you can register on our 3 Year Registration Website Portal: Warranty

---