Majestic GTV1900DA 12 Volt 19" Android LED TV with DVD and Chromecast Built in
Introducing the Majestic GTV1900DA 12 Volt 19" Android LED TV with Chromecast Built in - the ultimate 12V LED TV that has revolutionized the world of Smart TVs! With state-of-the-art technology, this TV has set a new standard in 12V LED TV technology by integrating advanced features that make it a must-have for every Caravan, Boat, Motorhome, RV or mobile application.
This TV is packed with amazing features such as Android Hey Google, Smart Functions, Optical Audio Output, PVR, Easy to use Remote, Bluetooth 5.0, Built-in Chromecast, ARC, 2x USB for Multi Media, and a high brightness LED Panel with HD video resolution. With all these features, you can enjoy a superior viewing experience like never before.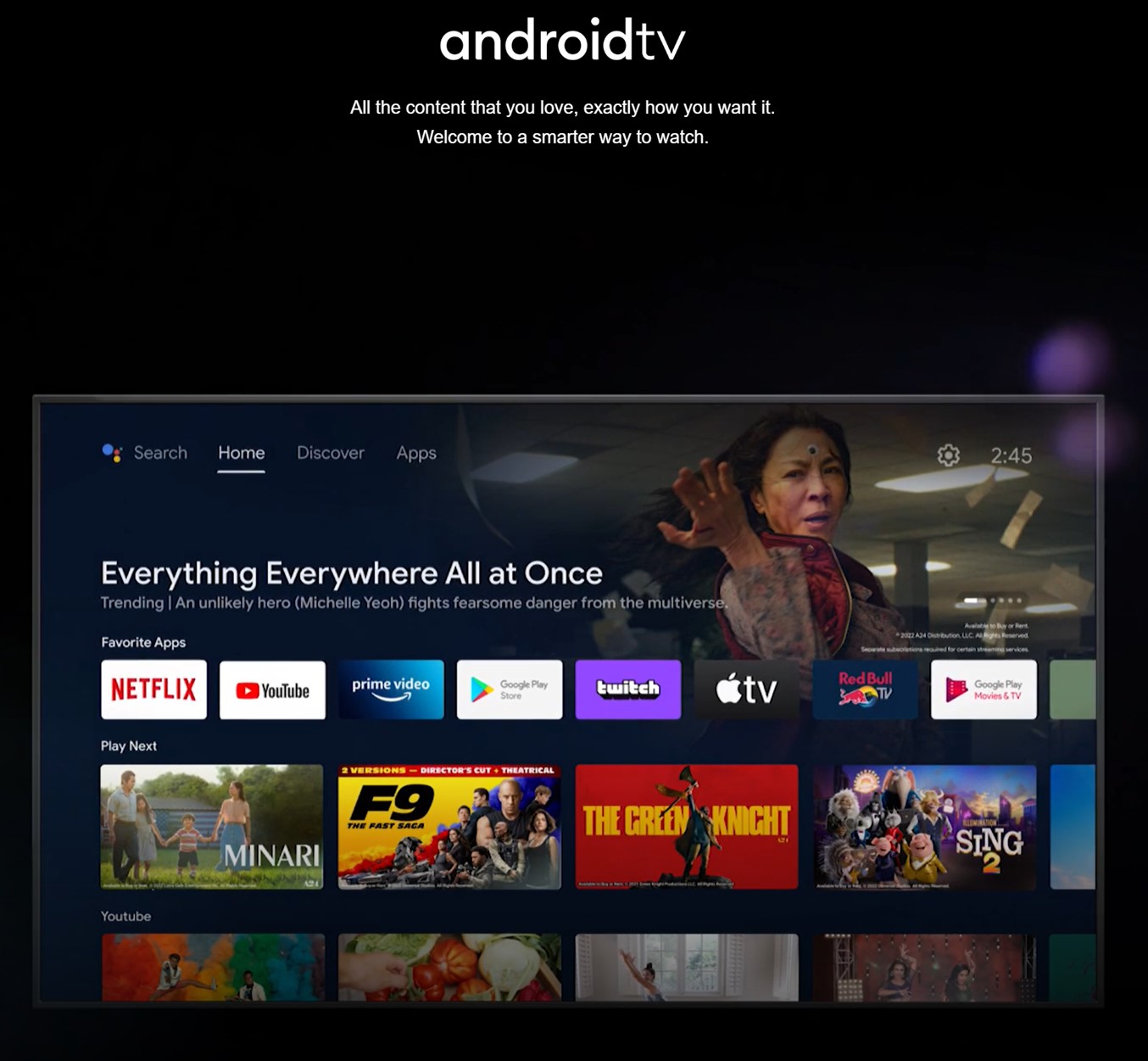 All New Smart TV
Access a whole new world of entertainment with our new Smart TV
powered by Android TV.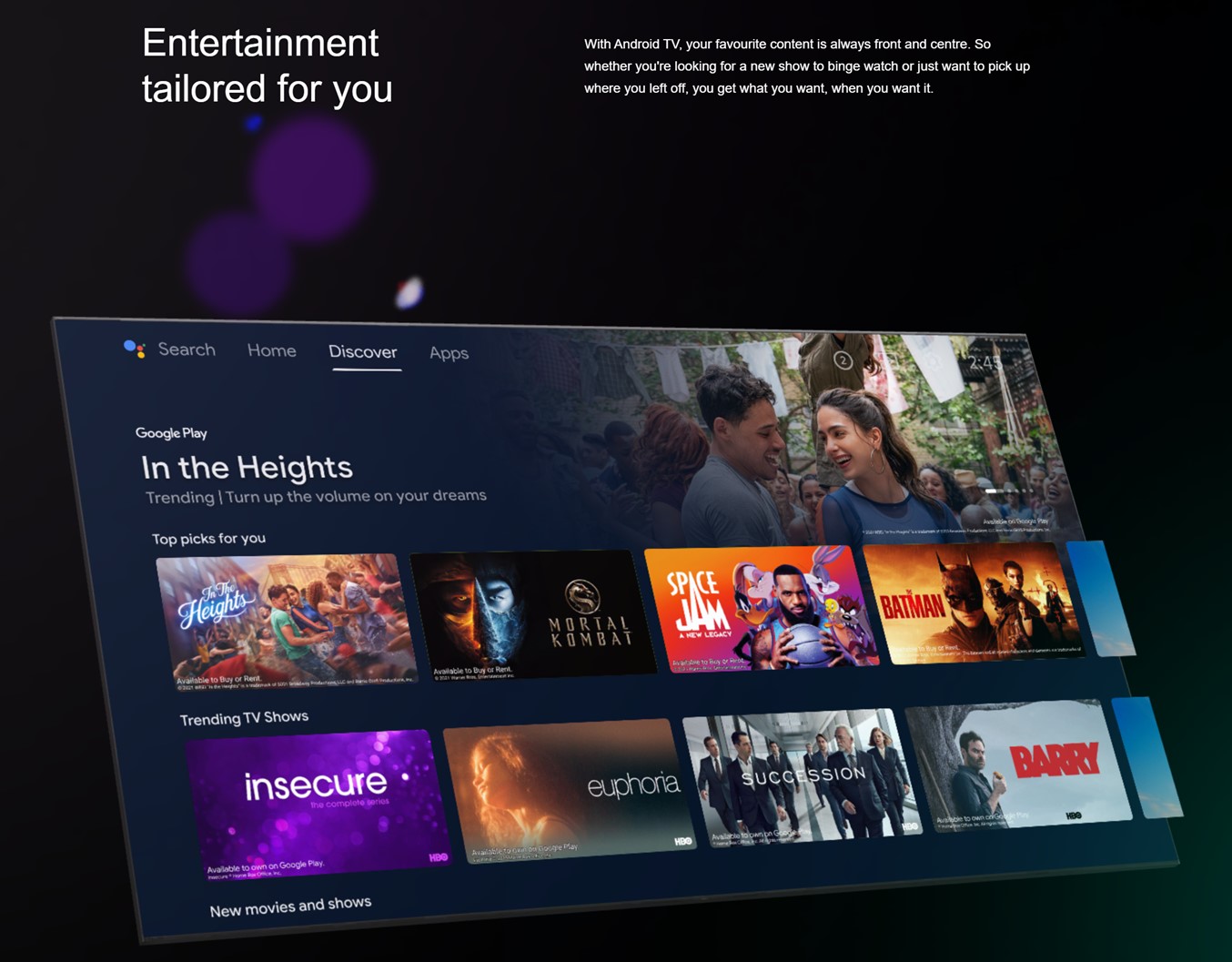 Content Store
Have access to hundreds of applications ready to download and install 
on your Majestic Smart TV.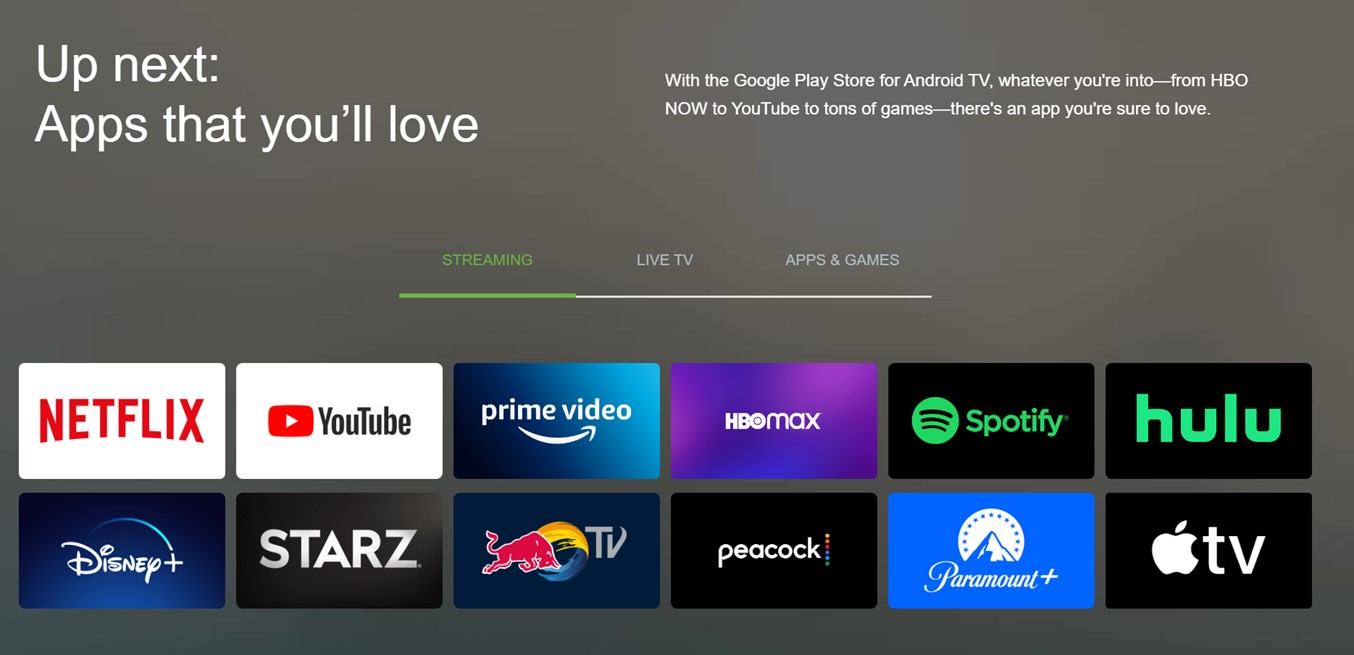 Chromecast Built In
With Chromecast built in you can stream your photos, music or videos directly 
to your Majestic Smart TV. 

Google Assistant
Press the Mic button on your remote to get the latest information such as movies, weather of game score 
all of this on your Majestic Smart TV. 



Discover the unparalleled quality and reliability of Majestic TV, a pioneer in the industry since 2000. Majestic Global proudly introduced the world's first 12 Volt LCD TV, marking a significant milestone in television technology. Today, with continuous growth and advancements, Majestic remains at the forefront as a global leader in crafting televisions specifically designed to withstand the demanding marine environment and endure the rugged conditions of the outback.
Majestic's commitment to excellence is evident in every aspect of their products. Meticulously engineered with the highest standards, Majestic TVs are trusted and utilized by renowned boat manufacturers such as Regal Boats, Rinker Boats, Four Winns, Ranger Tugs, and many other esteemed brands. These industry leaders have recognized the unparalleled durability and performance that Majestic TVs offer, making them the preferred choice for marine applications.
When you choose Majestic, you can have complete peace of mind. Each Majestic product is backed by a comprehensive 3 Year International Warranty, ensuring your investment is protected and giving you confidence in the long-lasting quality and reliability of their TVs.
Experience the difference with Majestic TV, where cutting-edge technology meets uncompromising durability. Whether you're navigating the open waters or exploring the rugged outdoors, Majestic TVs are built to exceed expectations and deliver an exceptional viewing experience that endures the toughest conditions. Choose Majestic and elevate your television experience to new heights of excellence.



Majestic GTV1900DA 19" Android Smart
Introducing the revolutionary Majestic GTV1900DA 19" 12 Volt Smart Android LED TV, setting a new benchmark in 12V LED TV technology while seamlessly integrating state-of-the-art Android Smart TV capabilities. Engineered with precision and backed by over 20 years of expertise, this cutting-edge television combines unrivaled features with exceptional quality to deliver an unparalleled viewing experience.
The Majestic GTV1900DA boasts an array of advanced technologies designed to elevate your entertainment to new heights. Experience the power of Android Smart Functions, allowing you to effortlessly access a world of entertainment, apps, and streaming services right at your fingertips. With the Optical Audio Output and Bluetooth 5.0 connectivity, immerse yourself in rich, high-quality sound that enhances your overall viewing experience.
Enjoy the convenience of built-in Chromecast, enabling seamless wireless screen mirroring from your tablet or smartphone to the TV. Effortlessly share and enjoy your favorite content on the big screen with ease. The GTV1900DA also features ARC (Audio Return Channel) functionality, simplifying the connection between your TV and audio system for an enhanced audio experience.
Equipped with two USB ports for versatile multimedia options, you can effortlessly play your favorite movies, music, or view photos directly from your external devices. The high brightness LED panel ensures vivid and lifelike visuals with Full HD video resolution, immersing you in a captivating visual journey.
At Majestic, we understand the demands of marine and outback environments, and that's why the GTV1900DA has been meticulously engineered to withstand these harsh conditions. Rest assured, our TVs are built to last, delivering uncompromising performance and durability, making them the trusted choice for marine enthusiasts and adventurers.
Elevate your entertainment experience with the Majestic GTV1900DA 19" 12 Volt Smart Android LED TV. Unleash the power of cutting-edge technology combined with exceptional quality, and embrace a new era of immersive viewing. Discover the ultimate blend of reliability, functionality, and performance that only Majestic can offer. Upgrade to Majestic today and redefine your television experience. For more information and to explore our complete range of premium products, visit our website or contact our dedicated team of experts.



Technical Features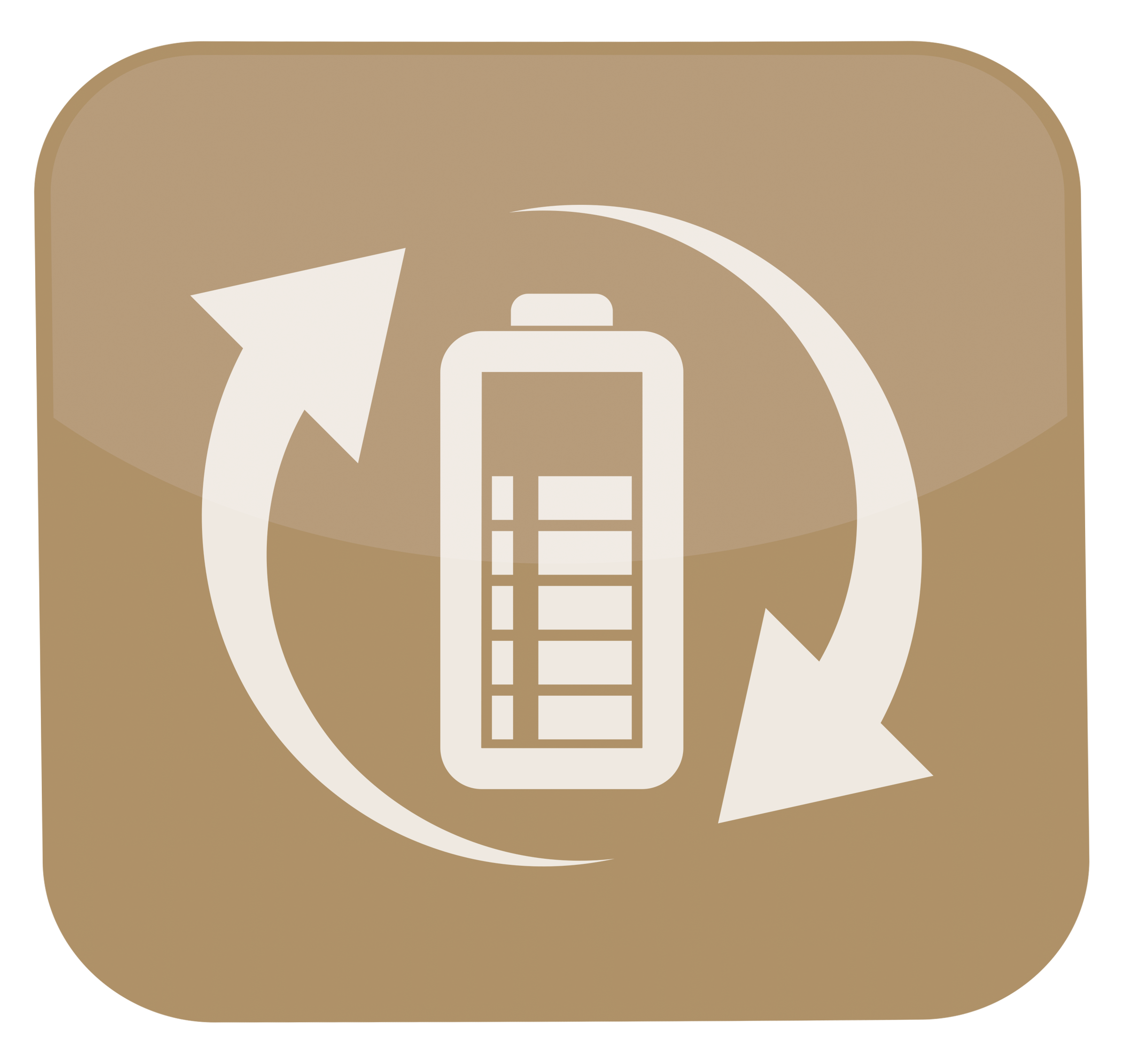 Power Consumption: Experience the power of efficiency with Majestic TVs. With over two decades of collaboration with RV and boat manufacturers worldwide, Majestic understands the importance of power consumption in these environments. Unlike other brands that overlook this critical aspect, Majestic recognizes that every extra watt consumed by a TV translates into additional energy costs for users. Moreover, conventional domestic branded TVs often draw excessive power, posing a risk of draining your battery system overnight.


At Majestic, our engineering team has prioritized efficiency in the design of our TVs. We understand that maximizing power usage is not only beneficial for users' wallets but also crucial for uninterrupted enjoyment of your RV or boat adventures. Our TVs are meticulously engineered to consume only the power they truly require, ensuring ultra-efficiency without compromising on performance.
Say goodbye to unnecessary energy expenses and the fear of waking up to a depleted battery system. Majestic TVs deliver exceptional performance while minimizing power consumption. Trust in our commitment to providing cutting-edge technology that not only enhances your viewing experience but also helps you optimize your resources.
Upgrade to a Majestic TV today and witness the perfect balance of efficiency and performance. Experience the peace of mind that comes with knowing you have a TV designed to deliver outstanding entertainment while respecting your power resources. Choose Majestic and embark on a journey of energy-efficient entertainment for your RV or boat.

Low Current: Discover the pinnacle of efficiency with Majestic TVs. Our range is meticulously designed to prioritize power utilization, ensuring optimal energy efficiency. The concept is elegantly straightforward: power is directed only to the essential components of the TV, minimizing wastage. In contrast, many other brands, including domestic TVs, often employ a power distribution system that energizes every aspect of the device, even when not in use, resulting in significant power wastage.

This game-changing feature is exemplified in the Majestic GTV1900DA 19" 12 Volt Smart Android LED TV. With a power draw of just 1.2 Amps or 14.4 Watts on 12V DC, this TV stands as the market leader in terms of energy efficiency for a Smart TV. Say goodbye to excessive power consumption and hello to a TV that not only enhances your viewing experience but also minimizes your energy costs.
By investing in the Majestic GTV1900DA, you're not only embracing cutting-edge technology but also making a sustainable choice. Experience guilt-free entertainment as you enjoy the remarkable performance of a Smart TV that sets a new standard for energy efficiency.
Upgrade your viewing experience with Majestic, the brand that combines technological innovation and eco-consciousness. Embrace the Majestic GTV1900DA and enjoy the benefits of being at the forefront of the energy-efficient entertainment revolution. Visit our website or contact our dedicated sales team to explore the full range of Majestic TVs and unlock a world of captivating visuals while reducing your ecological footprint.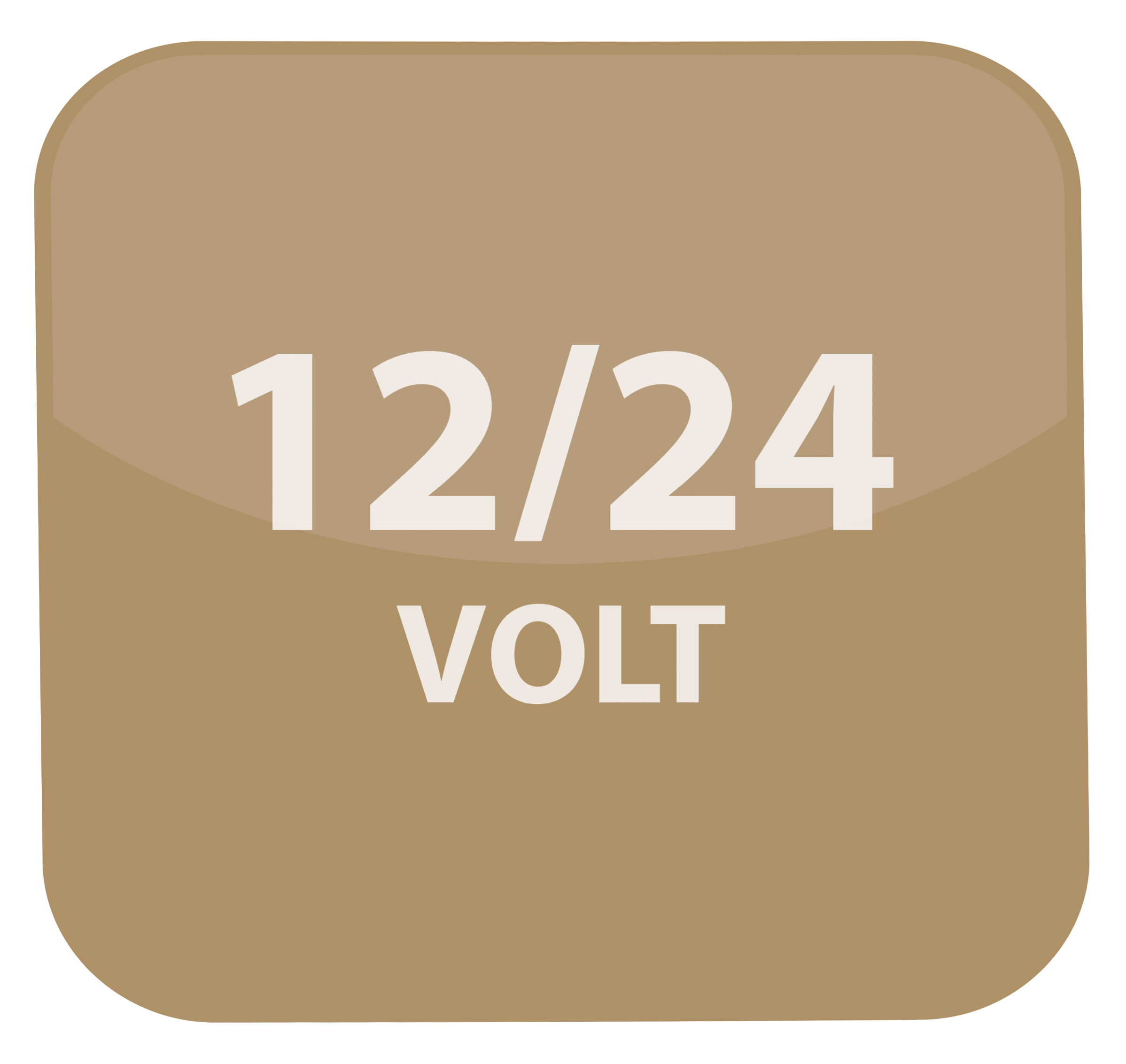 Voltage Range:  Experience unparalleled power compatibility with Majestic TVs. While most TV brands claim to be 12 Volt compatible, it is essential to consider the level of tolerance they offer. Many 12 Volt TVs have limited tolerances, typically ranging between 11V and 14V. This can pose significant challenges for users, particularly those with long cable runs, fluctuating battery voltages during nighttime, or inadequate power connections.


At Majestic, we understand the importance of seamless power performance. That's why our TVs are designed to operate flawlessly across a wide range of voltages, from 9.5V through to 30V DC. With Majestic, you can bid farewell to power-related issues and enjoy uninterrupted viewing pleasure.
Whether you're on a long journey or exploring remote destinations, our TVs guarantee optimal performance and peace of mind. No matter the voltage fluctuations or challenging power conditions, Majestic TVs rise to the occasion, ensuring you never miss a moment of your favorite shows or movies.
Invest in a Majestic TV and unlock the true potential of versatile power compatibility. Say goodbye to the frustrations caused by limited tolerance and embrace a TV that effortlessly adapts to your power environment. Visit our website or contact our dedicated sales team to explore our wide range of TVs, engineered to provide you with an unrivaled viewing experience, regardless of the power challenges you may encounter. Choose Majestic and take your entertainment to new heights of reliability and convenience.. See Note: 1


True 12 Volt: Unlock the power of innovation with Majestic, the pioneering company that introduced the world's first 12 Volt LCD TVs in 2000. Since then, Majestic has continuously pushed the boundaries of engineering to create the ultimate internal power supply system, designed to tackle a myriad of electrical power supply challenges.


Electrical noise interference can wreak havoc on your TV experience, leading to frustrating static and other disruptions. Majestic TVs are equipped with an advanced internal power supply system specifically engineered to combat these issues. Say goodbye to annoying disturbances and enjoy crystal-clear, uninterrupted viewing pleasure.
Voltage fluctuations pose a significant threat to electronic devices, but Majestic TVs are designed to handle these sudden transients with ease. With our cutting-edge technology, you can bid farewell to worries about voltage spikes or drops. No external power regulators or additional filters are required. Majestic TVs utilize state-of-the-art electronic components, ensuring optimal performance, reliability, and an extended lifespan in the demanding 12 Volt Mobile Industry.
Invest in a Majestic TV and experience the difference that innovation and reliability can make. Enjoy a television that not only delivers exceptional picture quality but also provides the longevity and durability required to thrive in the challenging mobile environment. With Majestic, your entertainment is safeguarded against power-related issues, allowing you to focus on what truly matters: a captivating viewing experience.
Discover the unrivaled reliability and cutting-edge engineering of Majestic TVs today.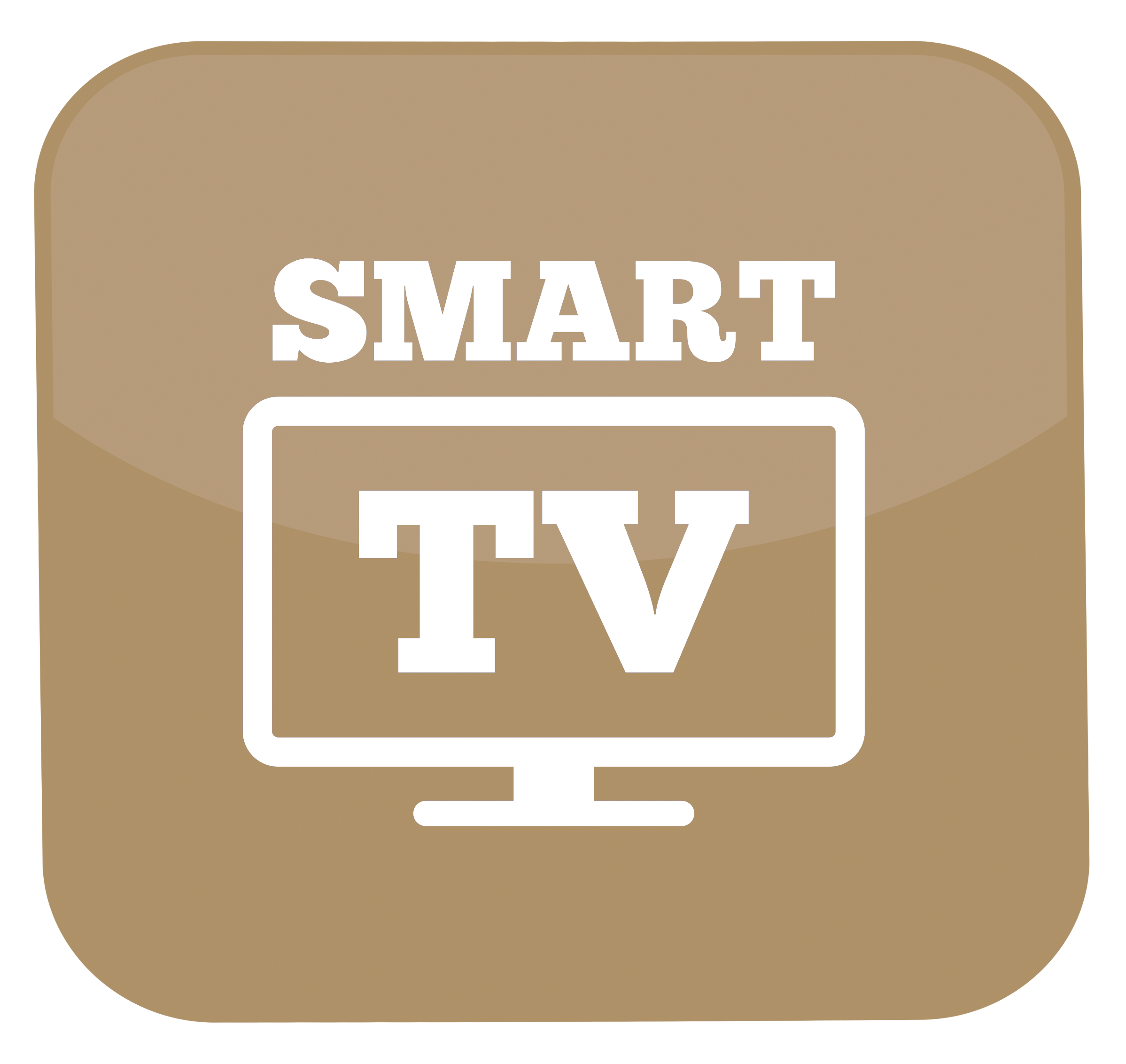 Smart Functions:  Experience the ultimate in smart functionality with the Majestic GTV1900DA 19" 12 Volt Smart Android LED TV. This cutting-edge TV empowers you with full access to smart functions, allowing you to personalize your entertainment experience by downloading a wide range of apps from the Google Play Store.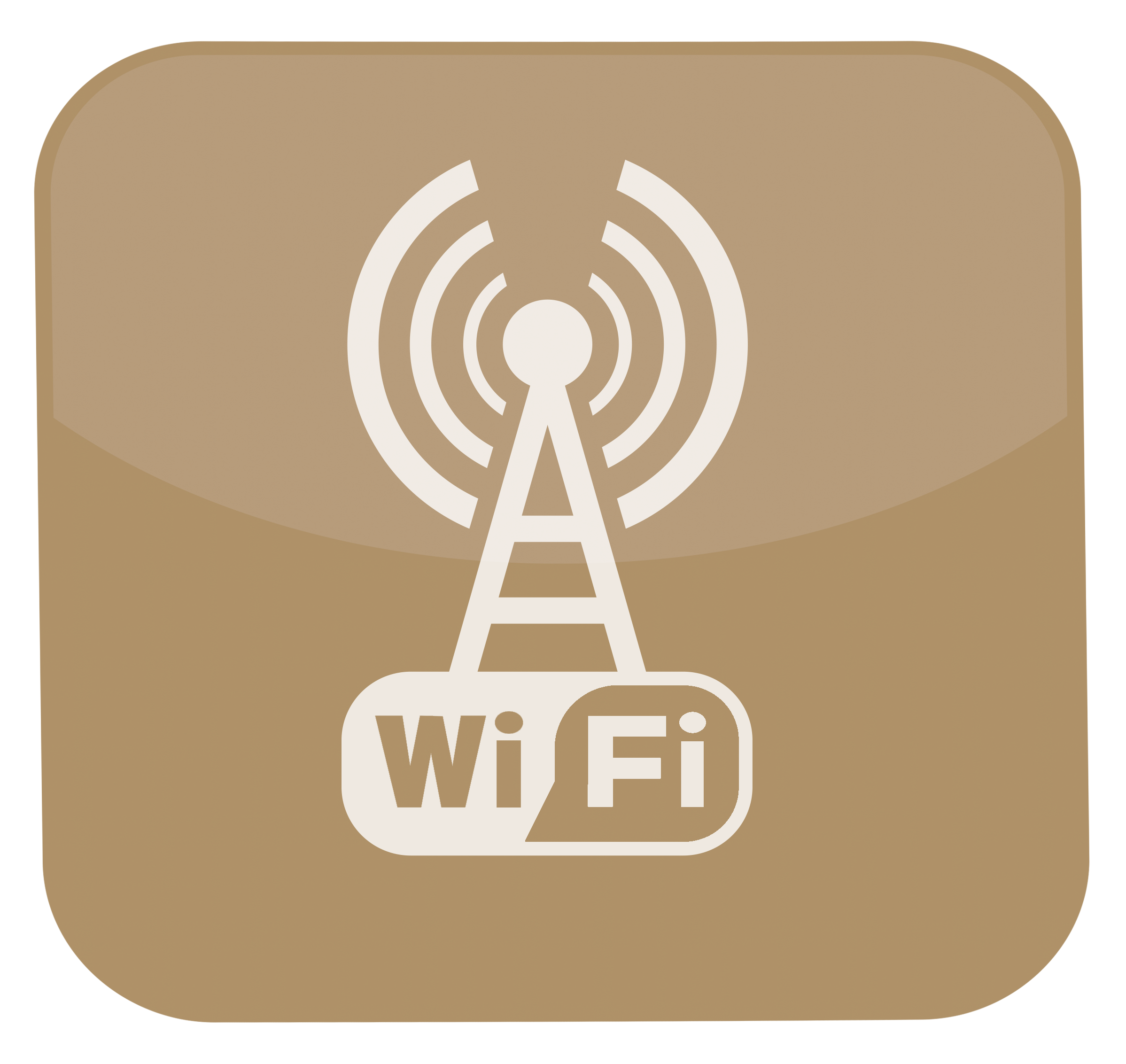 Powerful WiFi Receiver: Unlock the power of enhanced connectivity with the Majestic GTV1900DA 19" 12 Volt Smart Android LED TV. Designed to be a true Smart TV, it utilizes advanced WiFi technology with boosted power, ensuring you have the best possible chance of picking up even the weakest signals for optimum performance. Whether you're at a bustling caravan park or a marina, rest assured that you'll have the best WiFi capabilities available.


But what about those remote areas where WiFi is not accessible? Majestic has you covered. With the GTV1900DA, you can seamlessly connect your TV to your SIM-powered phone or tablet, tapping into your data plan and unlocking a world of streaming possibilities. Stream your favorite shows, movies, and online content directly through your TV, all without the need for traditional WiFi.
Experience the freedom of choice and uninterrupted entertainment, no matter where you are. With the Majestic GTV1900DA, you have the power to stay connected, stay entertained, and stay ahead of the game.
Upgrade to the Majestic GTV1900DA 19" 12 Volt Smart Android LED TV and enjoy the assurance of top-tier WiFi capabilities. Whether you're exploring bustling caravan parks or venturing into remote areas, this TV empowers you to stay connected and enjoy your favorite content effortlessly. Visit our website or contact our dedicated sales team to explore the full potential of the Majestic GTV1900DA and embrace the future of smart entertainment.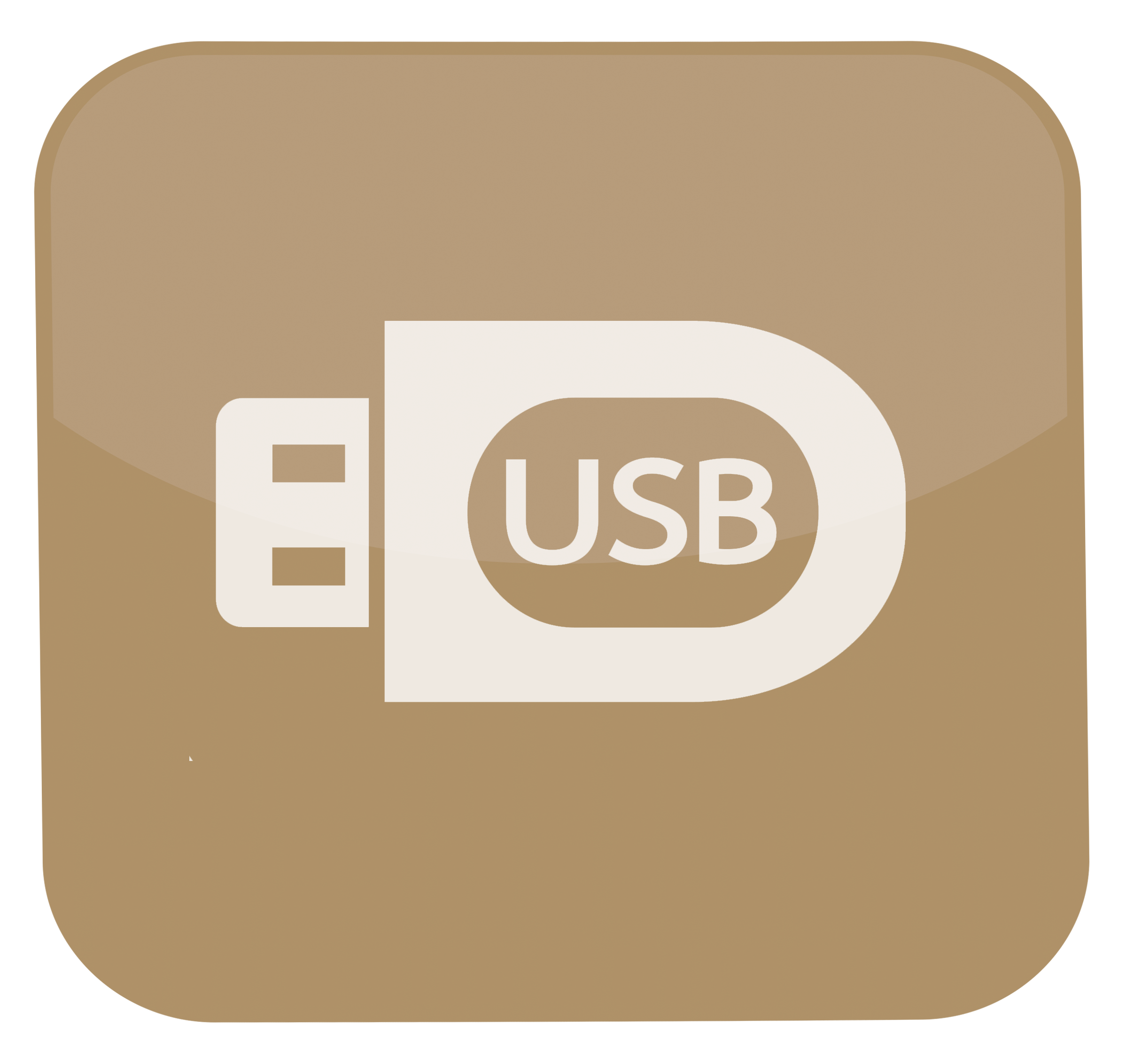 USB Functions:  The Majestic GTV1900DA 19" 12 Volt Smart Android LED TV has a 2x USBs that are designed to take most of your Multi Media files and display these on the screen. So if you have a hard drive or USB stick with photos, you can select the folder and with you photos and then the TV will go through them like a slide show. If you have movies or music simply select what you want to watch or listen to and the TV will display these.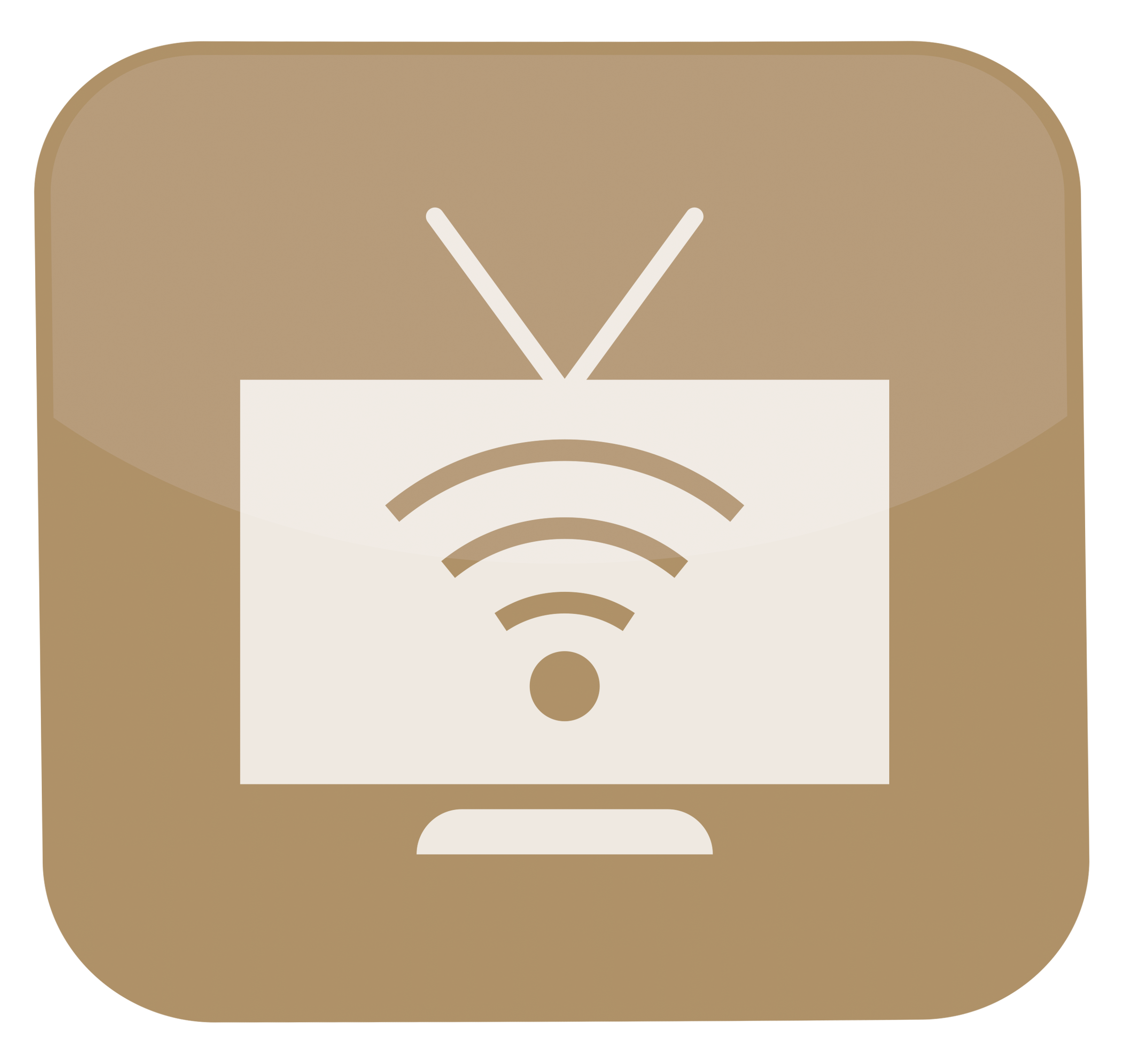 Chromecast: Majestic has been leading the technology to allow phones and tablets to be interfaced to the Majestic range of TV's using the MMMI technology for many years. With the latest technology in WiFi Chip sets Majestic has now enabled a direct WiFi streaming of your screen from your Android or iOS device using built in Chromecast. This acts like a mirror cast function whereby you connect the mobile device being a phone or tablet to the TV via direct WiFi and stream the screen onto the TV. This is not done via Bluetooth, but through direct link WiFi from your device to the TV therefore not needing other WiFi devices in the boat or RV to ensure best and most stable possible connection.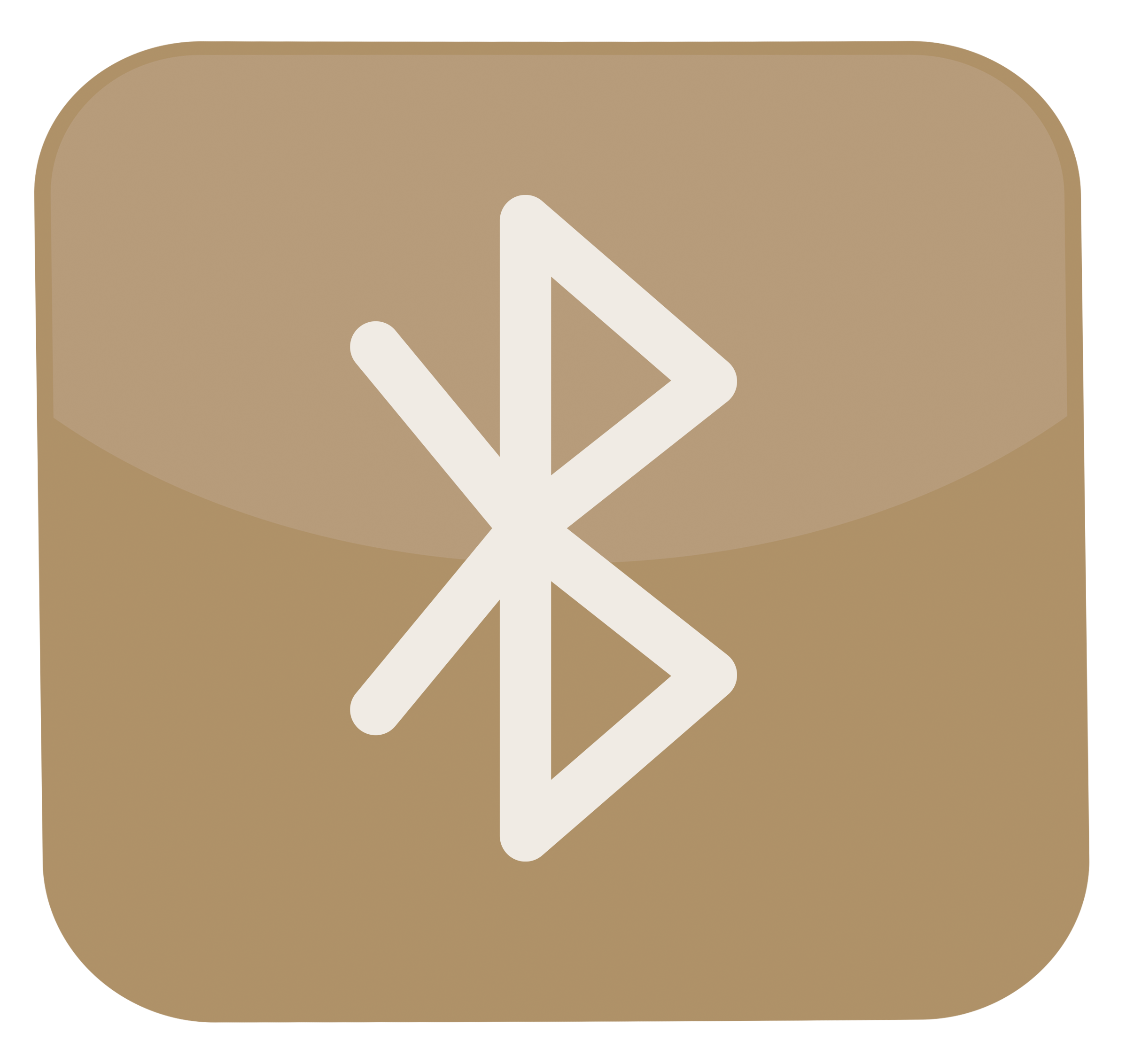 Bluetooth 5.0: Using the latest technology in Bluetooth, Majestic has installed Bluetooth 5.0 for enhance privacy and superior speed. This technology is lower power with significantly higher speed and increased stability in data transfers. For those customers wants to get the best out of their audio system you can stream via Bluetooth audio to the TV and then use the optical audio output into Fusion or other optical audio input compatible devices. The Bluetooth 5.0 is bi-directional so you can send Bluetooth to the TV such as music from your phone to the TV and from the TV to a set of Bluetooth speakers or stereo system. *See note 2



Other Features


ARC: Audio Return Channel is a new feature that has been added to the Majestic TV which allows you to send the audio through the HDMI cable to another ARC compatible device. This is an excellent feature when integrated to audio devices such as Fusion Stereos, Bose Audio systems and many others. This allows Dolby Digital Audio to be sent via the HDMI Cable to give you a sharp crisp sound, instead of using a two wire system with a dedicated Audio Cable.

Optical Audio Output: With technology advancing and quality of sound improving through digital speed of transmission, Majestic has added Optical Audio Output to the Majestic GTV1900DA 19" 12 Volt Smart Android LED TV. This is designed to work with brands such as Fusion to ensure the ultimate sound is delivered from the TV to the Audio system and giving you the best possible experience in your entertainment system.

TV Reception: One important factor in being able to receive TV signal is the TV Tuner. Most companies do not invest the time or money to enhance the TV tuner because in most cases the TV tuner is connected to a cable system with a strong signal level. However in boats and RV's Digital TV reception is all they have access to (unless they have satellite installed). The team of engineers at Majestic has been working to ensure that the TV tuner is of the highest possible gain using the latest in SMT technology. This ensures that the weakest signal is still amplified to give you the best possible signal reception in those distance and difficult areas. Now when matched with the Majestic UFO X TV antenna which has the highest gain at 30dB for its tiny 9" size, you can be assured that if there is any chance of signal reception, you will be the one that can get it. 


Speaker Output: A major challenge for small TV's is to be able to get enough audio output to ensure that people can here the TV sound clearly. Majestic uses two powerful 5W speakers to ensure the best sound quality and audio levels are possible for the slimmest case design.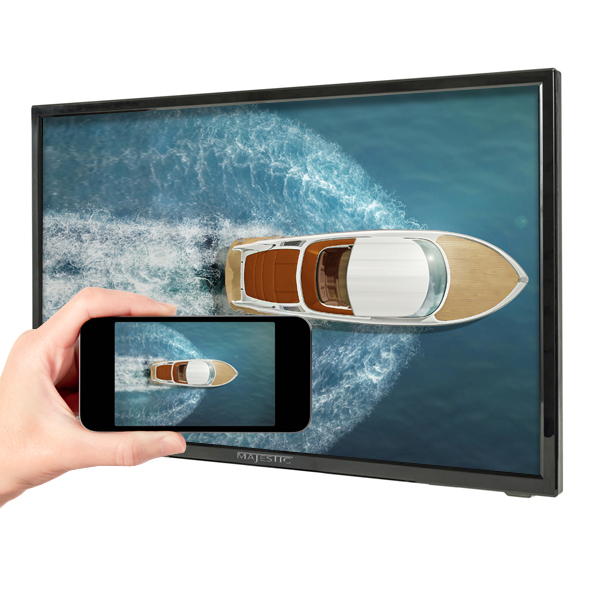 Marine Approved: Experience unrivaled durability and performance with Majestic TVs, the trusted choice of major boat manufacturers worldwide since 2000. We understand the unique challenges posed by marine environments, including humidity, moisture, and vibration. That's why we have meticulously engineered our TVs to withstand the harshest conditions, ensuring your entertainment remains uninterrupted.


When it comes to durability, Majestic TVs are in a league of their own. Our TVs are designed with hardened cases and feature conformal coating on the PCBs, providing an extra layer of protection against the elements. With over 20 years of industry experience, we have fine-tuned our designs to exceed expectations and deliver unparalleled performance in the marine environment.
With a Majestic TV onboard, you can navigate with confidence, knowing that your entertainment system is built to outperform any other brand. Whether you're sailing the open seas or exploring coastal waters, our TVs are your reliable companion, offering exceptional picture quality and reliability that sets us apart from the competition.
Choose Majestic and elevate your marine entertainment experience to new heights. Trust in our expertise, craftsmanship, and dedication to delivering the highest standards of durability and performance. Visit our website or contact our dedicated sales team to explore the full range of Majestic TVs and embark on a journey of marine entertainment excellence. Choose Majestic and sail with confidence.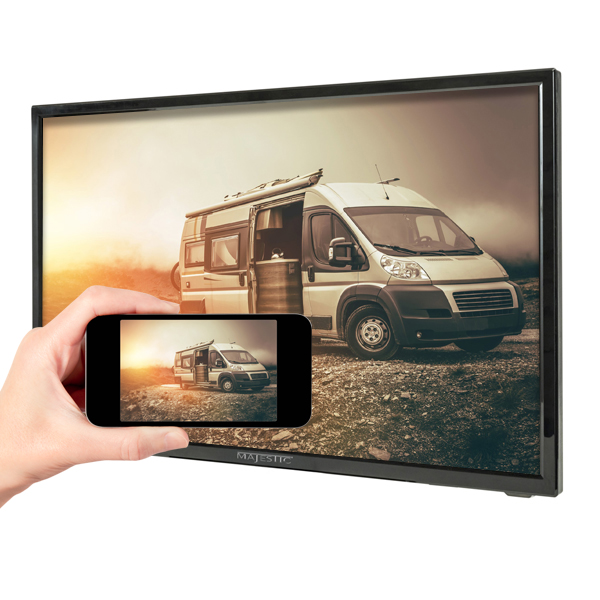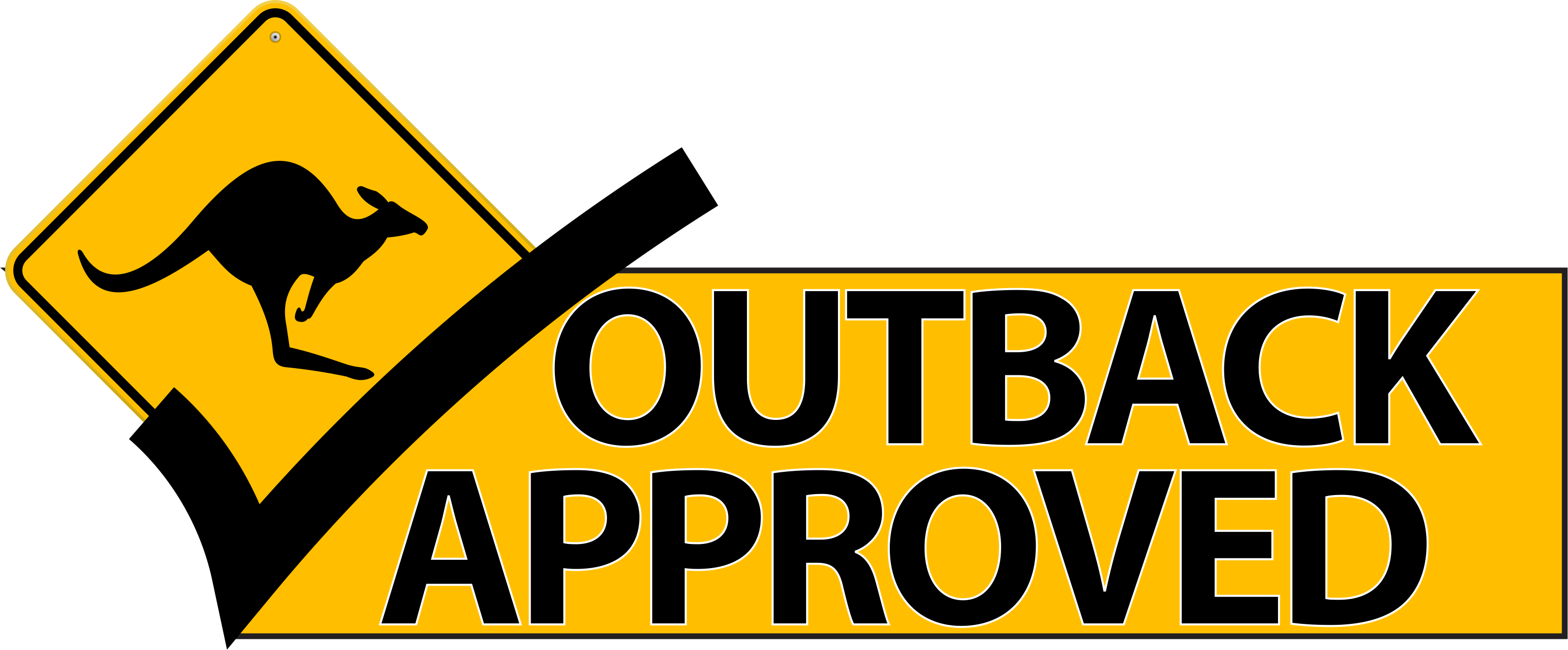 RV Approved: Harness the power of experience and resilience with Majestic TVs, the trusted partner of Australian caravan manufacturers. With an unwavering commitment to quality, we have spent years collaborating with industry leaders, testing our TVs in the most challenging outback conditions on Earth. Our goal? To deliver a TV that withstands the toughest tests of time, vibration, and harsh environments.


We understand the unique demands of the Australian outback, where long stretches of corrugated roads and off-road adventures can put any equipment to the test. That's why Majestic has gone above and beyond to engineer a TV that rises to the occasion. Our TVs are built to endure the harshest conditions, ensuring uninterrupted entertainment during your epic journeys.
With Majestic as your trusted companion, you can explore with confidence, knowing that your TV is specifically designed to withstand the level of vibration encountered during off-road expeditions. Say goodbye to worries about durability and focus on what truly matters: immersing yourself in the breathtaking beauty of the Australian outback while enjoying your favorite shows and movies.
Experience the reliability and resilience that only Majestic can offer. Visit our website or contact our dedicated sales team to explore our range of TVs, meticulously crafted to conquer the toughest outback conditions. Choose Majestic and embark on an adventure filled with unrivaled entertainment and peace of mind.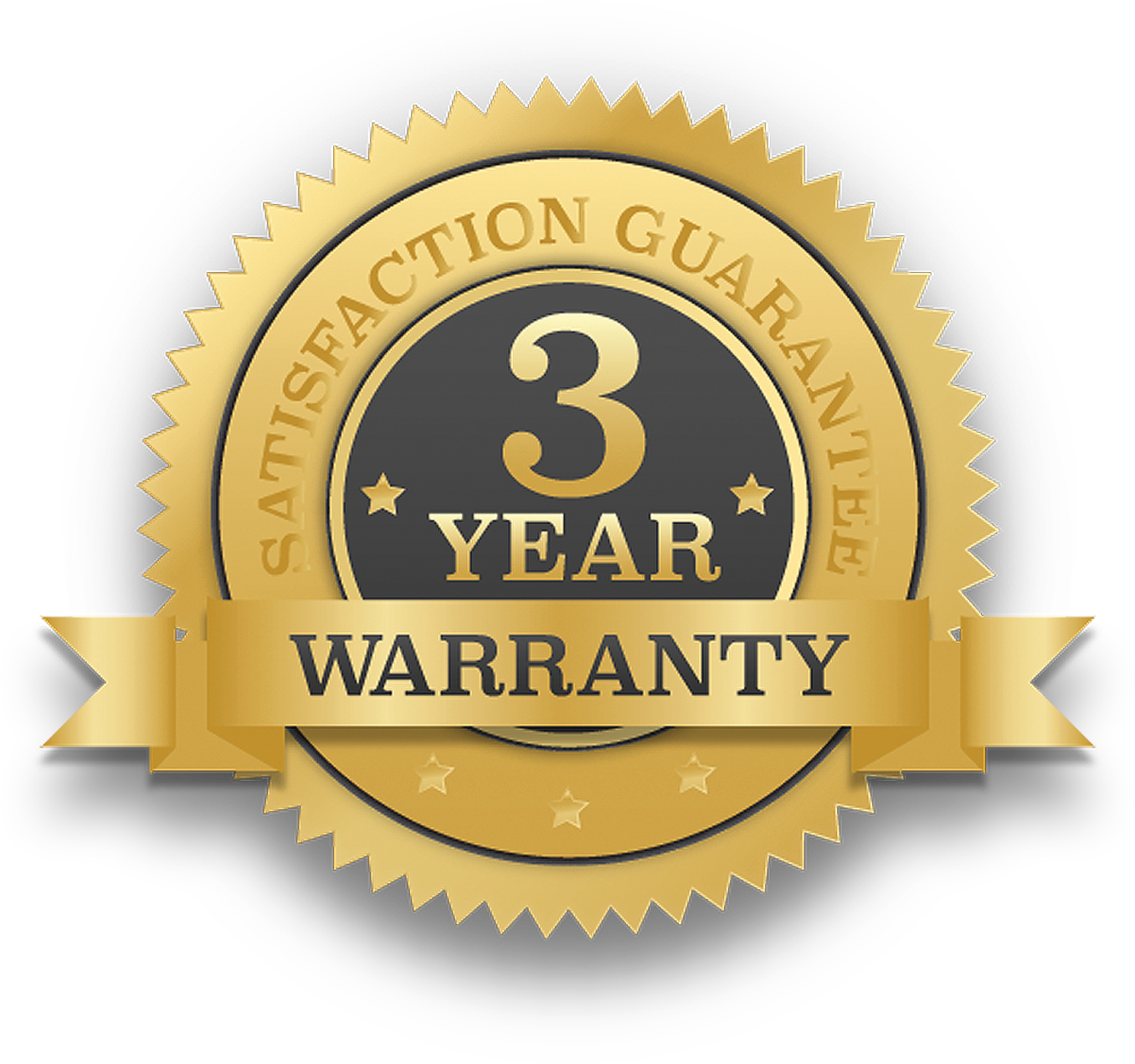 Warranty: Experience the pinnacle of Australian engineering excellence with Majestic products. Designed and developed in Australia, our brand has garnered over 20 years of industry experience, solidifying our commitment to delivering unparalleled quality. We proudly export our products worldwide, ensuring that customers across the globe can benefit from our expertise.


At Majestic, we stand by the quality of our products. That's why we offer a generous 3-year worldwide warranty, providing you with the peace of mind you deserve. We believe in the reliability and durability of our offerings, and we're confident that they will exceed your expectations.
Our dedicated engineering design team leaves no stone unturned when it comes to crafting products of exceptional quality. We understand the importance of every detail, ensuring that each component is meticulously designed and tested to withstand the toughest conditions. While domestic brands falter, Majestic products thrive, offering you years of reliable performance that simply cannot be matched.
Invest in a product that epitomizes excellence. Choose Majestic, where quality, reliability, and customer satisfaction are at the forefront of our values. Visit our website or contact our dedicated sales team to explore our extensive range of products and unlock a world of exceptional performance in even the harshest environments. With Majestic, your satisfaction is guaranteed.
Note 1: The TV will work on a 24V system provided the charging system does not exceed 30V. Most charging systems will go to 28V however Lithium and other special systems may exceed 30V and it is not recommended for these configurations.

Note 2: Majestic Bluetooth 5.0 will lock onto two devices but only transmit to one device at a time
Data sheet
Accessories Supplied

12V Cigarette Power Cable 1.5M, Remote, Instruction Manual, 240V power Pack

Aspect Ratio

16:9

Bluetooth

5.0

Brightness

250cdm

Colour

Gloss Black

Current Draw @ 12 Volt

1.2 Amps

Dimensions: HxWxD No Stand

W439 x D51 x H267 mm

Dimensions: HxWxD With Stand

W439 x D154 x H309 mm

Features

Chromecast Built in

Features

DVD Player Built In

Features

Optical Audio Output

Features

Satellite TV Tuner DVB-S2 (NZ only)

Headphone Output

1x 3.5mm Audio

Input HDMI

2x HDMI

Input USB

2x USB Multi Media capable

Refresh Rate

5ms

Resolution

1366x768

Screen Size (Diagonal)

18.5 Inches

Shipping Carton Size Single Unit

52 x 12 x 35 (cm)

Shipping Carton Size Multi Unit

54 x 51 x 38 (cm) 15.8Kg 4 TV's

Shipping Weight

3.5Kg

Speaker Output

5 Watts x2

UPC Barcode

85001717422

Vesa Size

100 x 100 mm

Viewing Angle

160Deg Horizontal 170Deg Vertical

Voltage Range

9.5V to 30V DC

Watts Used @ 12 Volts

14.4 Watts @ 12V

Weight

2.4Kg

Warranty

3 Year Warranty